About Us
Welcome to Tuscarora WoodWorks! Many Nyà:węs for stopping by! We are a Native-owned and operated business located on the sovereign Tuscarora Nation, near Lewiston, NY. We specialize in unique Native art and craft items. Most all our items are made right here in our shop, but we do carry items made elsewhere too.
About the Artist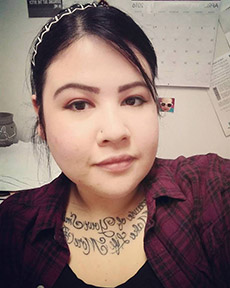 Yaihráˀthaˀ
Murisa Printup
"Do what you love and don't worry what others think."
Murisa grew up and currently resides on the Tuscarora Nation, near Lewiston, New York. She comes from a family of well-known painters, sculptors, and bead workers. She was drawing since she can remember. Over the years she evolved as an artist but always sticks to her Native roots. She believes art is a way to keep her culture alive and also express yourself.
About the Artist

Rayekwiratkyehná:we:k
Robert D'Alimonte
"When it comes to doing anything, you just can't beat hard work and focus."
Robert comes from a family of artists. His grandfather was Haudenosaunee Artist Stan Hill. Stan single-handedly revived the Haudenosaunee practice of carving antler and bone. Stan worked extremely hard to develop his art. Robert gets his inspiration and drive from this same set of genes.
Robert spent nearly 20 years as an IT Professional but grew tired of the politics and unfulfilled. In 2013, he resigned from IT and started Tuscarora WoodWorks. Built on skills he acquired while doing woodworking as a hobby for nearly 7 years while employed, this self-taught artist and businessman continues to pursue his art and craft. He currently lives on the Tuscarora Nation (located near Lewiston, NY) where he spends his time creating new designs, running Tuscarora WoodWorks, and working hard to keep his culture alive.